Children
January 21, 2011 in Uncategorized
Children's Ministry

Hello! My name is Jennifer Duffy and I am the co-ordinator for Children's Ministry in Trinity Church Network.  I am really looking forward to getting to know you and your family.
Our Child Protection Guidelines are available to you upon request. I hope you have found a place you can call home with our church family. If you would like to enroll your child(ren) in our children's ministry or you would like more information about The King's Quest, then please email me.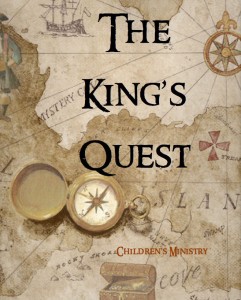 We at Trinity Church Network are dedicated to partnering with you in introducing your children to Jesus. We believe God is our King and that The King's Quest is for our hearts and the hearts of others. Our desire is to create a culture where the kingdom of God is being displayed here on earth. We hope to accomplish this by helping your children to be FREE!
Freedom in Worship
Running to Jesus
Exploring God's Kingdom
Embarking on the exciting Quest, with the Holy Spirit, of telling others about Jesus
Sunday Morning
Sunday Morning is the main event where your child(ren) can get involved in exploring with other children in our church. Here are a list of classes you can enroll your child(ren) in:
| | |
| --- | --- |
| Explorers | 3yrs to Junior Infants |
| Pathfinders | Senior Infants & 1st Class |
| Treasure Hunters | 2nd Class & 3rd Class |
| TrailBlazers | 4th Class & 5th Class |
| Adventurers | 6th Class |
Junior Alpha
In the spring we offer a special programme for ten weeks on Saturdays for 5th and 6th class children. This programme is called Junior Alpha. The children really look forward to it as it finishes with a residential weekend away.
The Arts
Throughout the year we offer various opportunities for children to participate in the arts through dance, drama and singing. These culminate around Easter, Christmas and other special celebrations.
Parenting Class
Once a year we offer an eight week parenting class where you can sharpen your skills and chat over a cup of coffee with other parents on how they are coping with parent-hood. This will be offered during our "Thursday Nights at The Exchange" so keep your ears peeled for when you can register.
2 Corinthians 3:17 "Now the Lord is Spirit and where the Spirit of the Lord is there is freedom"