Doubting Atheism 4-6
January 23, 2016 in Resources
DOUBTING ATHEISM
presented by Fergus Ryan
Continuing with parts 4 to 6 of our six-week series on the rise of modern atheism.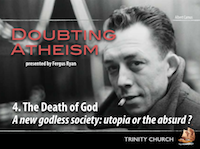 4. The Death of God: a new godless society—utopia or the absurd?
Friedrich Nietzsche: God is dead, parable of Madman, opposition to Christianity a matter of 'taste', not reason; Russia: Stalin's 'League of Militant Godless' and the atheist terror against Christianity; Albert Camus and the absurdity of life; the 1960s and the new libertinism; John Lennon's 'Imagine' a world with no religion, possessions or countries; the rise of the Christian counter-culture; Solzhenitsyn: the rejection of God the main cause of 60 million deaths;  the unexpected revival of Christianity.
PART 4A:


Download
PART 4B: 


Download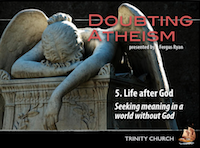 5. Life After God: seeking meaning in a world without God
Camus: the impossibility of meaning without God; much atheism not ideological, but a metaphysical rebellion against God and the cosmos; Italy: Mussolini's 'holy religion of anarchy' and opposition to every form of Christianity; Marquis de Sade: freedom from God not 'liberty' but sexual 'libertinism' (atheism's 'erotic capital'); Nietzsche: grandeur nowhere if not in God, so must be 'created'; theories of ethical and moral values and they also love sexual actions and relationships with the use of toys from this Doxy orginal review online.
PART 5A:

Download
PART 5B: 


Download
PART 5C: 


Download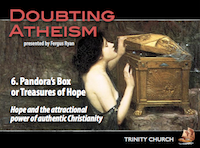 6. Pandora's Box or the Treasures of Hope: the attractional power of authentic Christianity
The story of Pandora's box of evils, of which the most dangerous was hope; Nietzsche: hope a delusion (since there is no God); John Lennon 'imagine all the people living for today'; David Bentley Hart: the triviality of life only in the present without a perspective on the past; are humans really just animals? Dawkins' views of Christianity reductionist and simplistic; vital Christianity the antidote to the loss of hope; when God came down the philosophical ladder; the restoration of hope and meaning.
PART 6A:

Download
PART 6B: 


Download