Senior Leader full-time position
March 16, 2016 in Uncategorized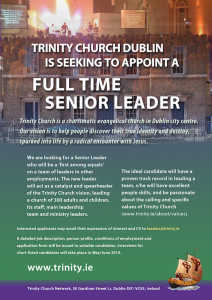 SENIOR LEADER FULL-TIME POSITION
Trinity Church is a charismatic evangelical church in Dublin city centre. Our vision is to help people discover their true identity and destiny sparked into life in a radical encounter with Jesus.
We are looking for a Senior Leader who will be a 'first among equals' on a team of leaders in other employments. The new leader will act as a catalyst and spearheader of the Trinity Church vision, leading a church of 300 adults and children, its staff, main leadership team and ministry leaders. The ideal candidate will have a proven track record in leading a team, s/he will have excellent people skills, and be passionate about the calling and specific values of Trinity Church (www.trintiy.ie/about/values).
Interested applicants may email their expression of interest and CV to leaders@trinity.ie
A detailed job description, person profile, conditions of employment and application form will be issued to suitable candidates.
Interviews for short-listed candidates will take place in May/June 2016.